Guest Post: Kati Ford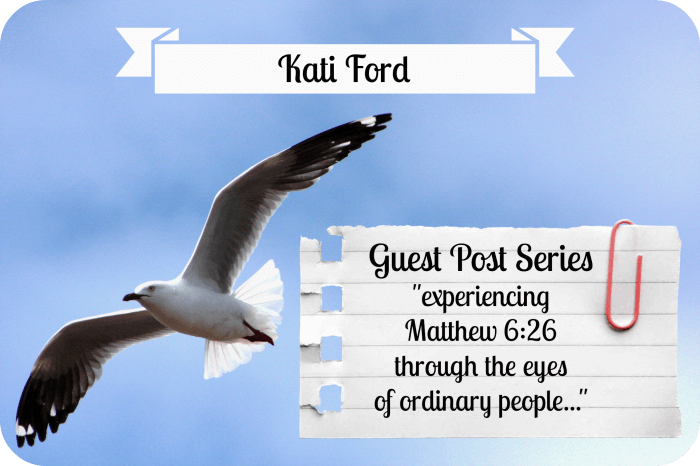 "Look at the birds, free and unfettered, not tied down to a job description, careless in the care of God. And you count far more to him than birds."

My Sweet Little Elf is sleeping soundly, thank God for afternoon naps. That being said, I've to collect my thoughts quickly because soon he'll be awake and ready to play. Quiet time is a hot commodity around this place and that which makes it so, in my life, is a blessing beyond words.

This past Sunday I celebrated the third Easter since my sweet little gnome, my first born son, went home. Gideon Daniel was diagnosed with a brain malformation while I carried him. A diagnosis that became progressively more foreboding until they day of his birth. And when he was born, he was not expected to live more than a few hours.

Hours turned into day, days to weeks, and weeks to months. Eleven months. Filled with wonder, and awe and speechlessness at the wonder of God's mercy. And then, it ended.

I am no stranger to worry, eleven months of wonder, were also months of questions and doubt and a battle against fear, against worry. I can't say that worry and I have not jousted before. We are old friends. Long before Gideon was ever conceived, ever imagined, or the love that he was incarnate off was sparked, worry and I have been sparing partners, but something about this process, the process of waiting for him to be born, waiting for him to die, changed the game for me.

Even outside of my personal life, I live and breathe worry, anxiety, fear. In my "day" job as a therapist, working with adults and children in the field of mental health I'm a guide and fellow warrior in the battle with many. I cheer them on, I challenged their thinking, I validate their hurts and I hear their stories. it's a journey I am privileged to take with others, it affords me lots of opportunities to reflect about worry.

Change what you think, examine and recreate core beliefs that are not healthy, learn to be mindful and live in the moment. Those cognitive behavioral and dialectical behavioral therapy tools are wonderful.

When April asked me to write about this passage, I knew I'd have lots of great tips for how to deal with worry.

But I'm not your therapist, and I don't think that's what April was really asking me to share.

I remember living in those days, with the reality of the coming loss. Choosing hope, and joy and to be fully present in the moment every day, sometimes every hour. Usually. But there were times when I swam in despair, in the future and the past and in all of the things I could not control. I cannot control. I cannot control the fate of my little one sleeping now. I cannot guarantee that each breath he, or I, or his father take will not be our last. And that is was worry is, living in every other moment but this one. Living in every other possible outcome and past mistake. And its so tempting, even now, to get pulled into the illusion of control worry entices.

This morning I woke up worried about something. Probably paperwork, or money, or how messy my house is. And when I am honest I can say sometimes. I like worry, it is comforting, it is familiar and it is a good excuse to stay put. Freedom requires movement.

And I hear Him say "Child, you have survived the breaking of your heart only to be healed, the emptying of your life, only to be full. I love you more, and I have more for you."

So, since I know there will be little feet pounding down the hall at any moment, I'll try to sum it all up as best I can. When I read these words from Matthew, that April has challenged me to mediate on, I'm both comforted and challenged. I know what it is to be held by God in the darkest moments and I know that I can trust him. When I chose worry its not because I don't believe God will cover me, its because I know His covering comes at a cost. If I'm going to live fully, to believe that He will catch me when I fall, I have to jump. What Gideon's life taught me is not only that I can trust God, but that the jump is worth the risk.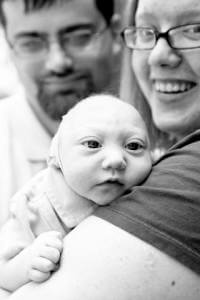 Kati is mother to two boys and one jack Russell terror (that is not a typo), Gideon Daniel, Ezra Louis, and Angus.
She is wife to David and She works as a licensed clinical therapist in community mental health and has worked in both residential and outpatient settings with severally emotional disturbed children and adults in psychiatric cr isis.
She has a very poorly updated blog at Holding Gideon w here you can read more about her journey though grief, loss and joy and feel solidarity with someone who seems to need to learn the same lessons again and again and again…
If you liked this you might like these...