Guest Post by: Genevieve West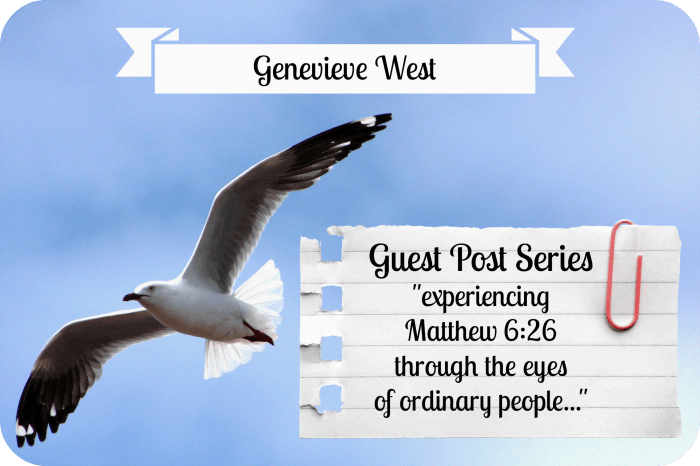 Careless in the care of God — Even To Death

I can't help but picture myself standing on the edge of a cliff, my back turned to the endless chasm below, my heels teetering over the edge.

I spread my arms, close my eyes, and let myself fall backward.

Peaceful, knowing I'm safe.

Content with what I have.

Careless in the care of God.

"Look at the birds, free and unfettered, not tied down to a job description, careless in the care of God. And you count far more to him than birds."

By following their natural instincts that God placed in them from the beginning, and by not struggling for power in their relationship, or worshipping anything other than their Creator, birds are blissfully careless as they work.

But that's not how things are for us human beings.

No one has been completely careless since Adam and his bride screwed everything up for the rest of us.

We toil for our basic needs. We worry about what people will think of us, or if we'll get that promotion. We experience anxiety and stress. We struggle for power and pleasure in our relationships. We freak out about finances, especially when we get those credit card bills in January. We worship money, a job, our spouse, our kids, our belongings, our lifestyle, our social status, putting whatever-it-is ahead of the One True God.

In a way, it's not really our fault. Unlike those birds, we don't have that "natural instinct" that birds have to follow God unfettered. As soon as Adam took a bite of that fruit, the only thing that came "naturally" to us was sin.

We are descendants of Adam, who was following Satan, making us children of wrath.

Ouch, right?

No matter how hard we try, we miss the mark.

We no longer know how to walk in the garden with God.

We are ashamed to be naked, even before God.

Frightened of our vulnerability, we hide ourselves, even from our Creator.

Hopeless, doomed to an eternity apart from God, we are anxiety-ridden control freaks.

Because human beings rebelled against God, we totally deserve suffering, death, and to be separated from God forever.

But the story doesn't end there.

From the beginning, God totally knew we'd be living as fallen creatures in a fallen world. So He designed a sort of escape hatch for us, and kept on telling His people about it, until one day….

In His mercy, God the Father sent His Son, Christ Jesus, to take all the nasty consequences from Adam eating that apple.

The price was paid. But not by us.

A thing is only worth as much as someone is willing to pay for it. And Christ paid for his people with His blood, with his life. He defeated death forever. And it still doesn't end there. He then came back to life in a perfect body, and finally went to be with God the Father, but still sent the Holy Spirit to hang out with us until Jesus comes back for us.

It's when we acknowledge our hopelessness and our helplessness and we cry out to God, "Help me! I can't do this alone!" that we finally can step into His grace. We humbly and desperately step into all the good things that we don't deserve that God hands to us anyway, because of what Christ did for us.

In light of this, we are no longer children of wrath. We are beloved children of God.

And God takes care of His children. We know this because of the great lengths He went to make it possible for us to be with Him again – putting on a meat suit, being born in a stinky barn to a teenage girl, and finally dying in our place.

We are no longer children of wrath. We are now heirs to His Kingdom!

It may not look the way we hope, but God does provide. He's proven that to us by providing that escape hatch through Christ. If we have that escape hatch to get out of this hell hole one day, then what else do we have to worry about?

Food? Money? Clothing? Gossip? Career? Clean water? Bodily harm? Even death? We're already more than conquerors through Christ conquering death!

Because of this, we can indeed be careless in the care of God.

Not reckless. Careless.

Without a care in the world, because you know that your soul is tucked away safely with Christ.

Because of who we are in light of what God has done through Christ, we're now free to love the unlovable, and to forgive the unforgiveable, because Christ has forgiven the unforgiveable in us.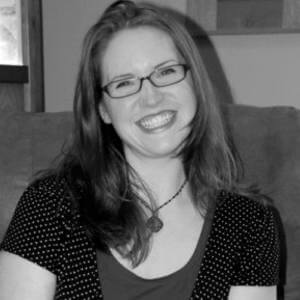 Genevieve West is a
wine-drinking, coffee-chugging, domestically-challenged, writer, relationship consultant, wife, and homeschool mom in Portland, Oregon.
Find more of Genevieve's insights and antics at
genevievewest.me and
follow her on twitter @GenevieveWest .
If you liked this you might like these...