Guest Post by: Christiana Mayer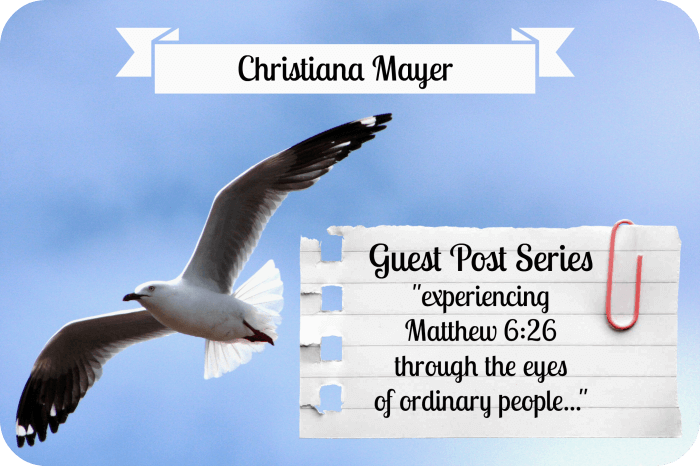 When I found out that April was doing a series on Matthew 6:26 and was looking for guest posters I figured that this was a good time as any to take my maiden voyage into the blog world.
So here it goes:
The first thing I did was to check my American Patriots Bible (NKJV) to see if there was any special note about the verse there wasn't. What I found interesting is that the heading right before the series of verses says:
Do not Worry.
Seeing that made me look at the verse in a totally different way. It made me realize that our heavenly Father will take care of us if we let him.
I am a walking example of that principle.
August 2008 I had a ruptured aneurysm and so things happened that when added up all together meant that God was watching over me.
For instance the surgeon who was one of the best in his field happened to be on call. So many other things happened along the way with my recovery that all add up to my premise that God was watching over me that night. From what I understand I should not be walking around and functioning in a normal way.
I am here because I fought like crazy to survive and I had great medical care and because the heavenly Father was watching over me.
In October 2012 I participated in Bird Art Installation Project which is a world-wide event where artists create birds and hang them up. Once hung up pictures are taken and then a art piece is made from the pictures. The reason that I am choosing this event is because most of the birds looked like they were flying.
Flying in joy and happiness knowing that their needs are taken care of the heavenly Father. Yes you have to work along side the heavenly Father to have your needs met but if you are willing to let him do some the heavy lifting amazing can and will happen.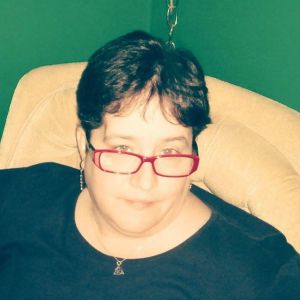 Christiana Mayer lives in Oregon
with her husband and two cats.
You can follow her on twitter

and look for her blog later this month
Christiana & Adam Our Journey to Adoption
If you liked this you might like these...