Guest Post by: David Mike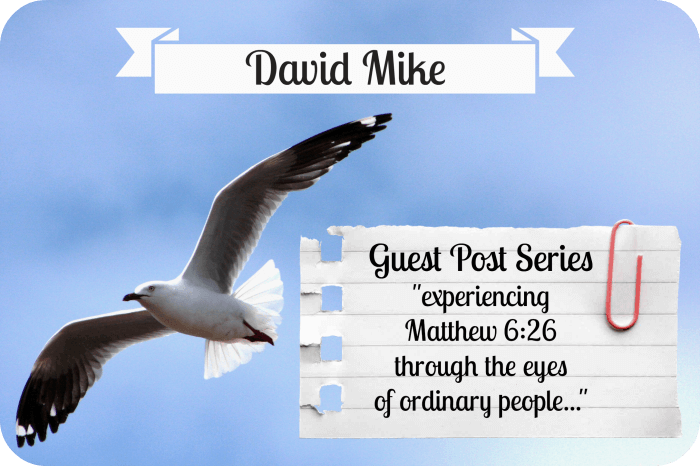 What does this verse mean to me? I was told to always read ahead and to read after, to gain the context of a verse.

"Therefore I tell you, do not worry about your life, what you will eat or drink; or about your body, what you will wear. Is not life more than food, and the body more than clothes? Look at the birds of the air; they do not sow or reap or store away in barns, and yet your heavenly Father feeds them.Are you not much more valuable than they? Can any one of you by worrying add a single hour to your life? "And why do you worry about clothes? See how the flowers of the field grow. They do not labor or spin. Yet I tell you that not even Solomon in all his splendor was dressed like one of these. If that is how God clothes the grass of the field, which is here today and tomorrow is thrown into the fire, will he not much more clothe you—you of little faith? So do not worry, saying, 'What shall we eat?' or 'What shall we drink?' or 'What shall we wear?' For the pagans run after all these things, and your heavenly Father knows that you need them. But seek first his kingdom and his righteousness, and all these things will be given to you as well. Therefore do not worry about tomorrow, for tomorrow will worry about itself. Each day has enough trouble of its own." Matthew 6:25-34

So after doing that it was pretty clear that this verse means don't worry about anything.

Wow, that's it?

So simple.

Then why is it so hard to let go. Why is it the thing that I struggle with the most. Why am I constantly asking for healing prayer when it comes to wanting to be in control of my own life.

I fear that I will never make enough money to support my family. I choose to work two jobs so as not to slip into a financial hole. That I have to do everything now to prepare for the future.

If the answer is just "Don't worry, God will take care of you." then why don't I just trust this to be true?

Maybe, I am doing this guest post because I needed to hear from God. I need to surrender to God and be fully dependent on Him. I need to communicate more with Him in prayer and in reading the Bible. I need to release the grip I have on my life and the life of my family to know that we will not go without. We will be OK and really it is not about me or because of me.

If God gave his only Son for us, then he must love us more than we can ever imagine. So if I take the focus off myself and put it fully on Him, not only will we be OK but, his plan and purpose that He has for us will happen and we only have to be willing.

If God said it and His word is true, then I need to believe it!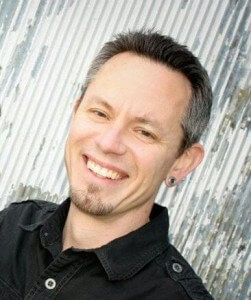 David Mike is a Christ follower, husband, father and Cosmetology Instructor in Omaha, NE. David started his blog http://dilemmamike.com/ to to share humorous life events and also tell the story of the 3 years spent in the U.S. Army's Prison, Ft. Leavenworth. In hope to share the message that we do not have to be defined by our past and that God can use our kind of mess for good.
Website: http://dilemmamike.com/
Twitter: #/dilemmamike
Personal Facebook: #/dilemmamikeblog
Blog Facebook: #/dilemmamike
Now go and show David some love at his website…and tune in next week for the next installment of this guest-post series…
Carelessly,
April
If you liked this you might like these...